Photographer: Daniel Acker/Bloomberg
The Only Winners in Volkswagen's Diesel Mess Are Drivers
A half-million tainted cars head to the scrap heap, and owners walk away with up to $44,000.
"I bought it just before I kind of found Jesus, financially," Malczyk said of his four-year-old Sportwagen. "So this is going to be kind of a nice way to reset."
All told, owners stand to make at least double what their cars were worth just before news of the scandal.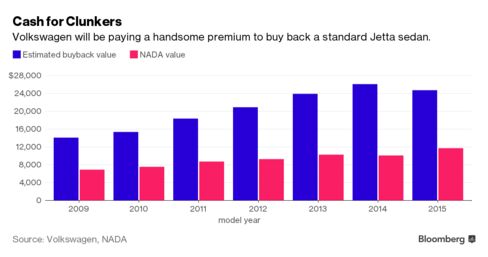 "Financially, consumers are going to do far better than if diesel-gate never happened," said Ernie Garcia, chief executive officer of Carvana, an online used car dealer in 14 U.S. cities. "My guess is most of them will be able to make a decision on this very quickly."
Regulators pushed Volkswagen to spread payments widely. Owners who are upside-down on car payments–owing more than their car is worth–will be offered loan forgiveness or an even larger payout, up to 130 percent of the value of the car. Even a former owner who sold one of the afflicted cars after news of the scandal will be eligible for half the restitution payment, with the other half going to the current owner of the car.
This is all in addition to the $500 cash cards that the company has already scattered to owners.
"It is certainly the most comprehensive and thorough compensation package I've ever seen an automaker offer owners," said Karl Brauer, senior analyst at Kelley Blue Book.
After Volkswagen takes the tainted vehicles off the road, what will become of the nearly half-million cars unfit for use in the U.S. remains unclear. There may eventually be a fix for the diesel engines, and owners retain the right to keep their cars and wait. Those who do will still be able to collect the restitution payment and, in theory at least, the company could eventually put the repurchased cars back on the road.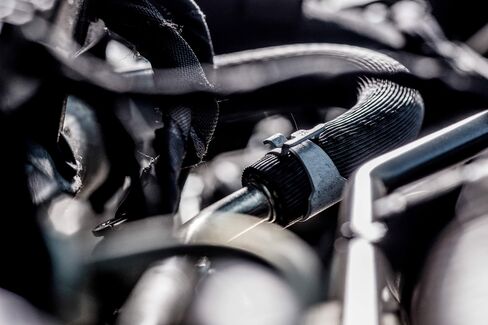 "Honestly, I think [Volkswagen will] probably just junk them," said Bloomberg Intelligence analyst Kevin Tynan. "They'll have already spent all that money to buy them back. They're not going to spend more to retrofit them."
Brauer, at Kelley Blue Book, expects from 70 percent to 90 percent of owners to take the buyback. "I think Volkswagen's approach is, 'We're going to assume scrap value on all of these," he said.
It's a staggering number of cars to toss onto the scrap heap. Volkswagen needed the past 18 months to sell as many new vehicles in the U.S. The company is still trying to figure out how to make amends for diesel gamesmanship on its larger, three-liter engines. There are 85,000 of them on the road in the U.S.
Malczyk, meanwhile, is one of a few people who knows exactly what to do with his tainted Volkswagen while he waits to sell it back to its maker. He's going to wreck it, or at least flog it extremely hard in the coming weeks. Oil changes? Pass. Car wash? Nah. An impromptu rally course through the hardwoods of Connecticut? Sure. None of those will affect his payout.
"I guess I could just park it for six or seven years," he mused. "It would be the last diesel wagon in America and there's always going to be some geeked out diesel fan who's into these things."